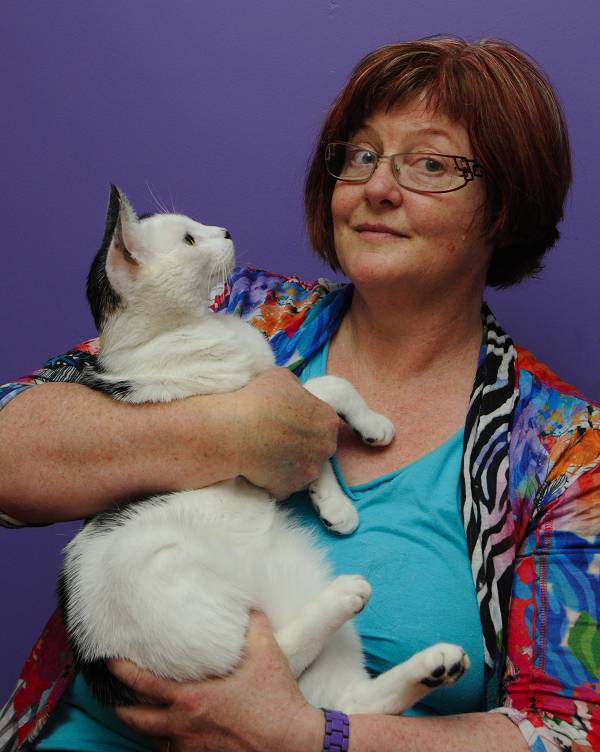 From the Heart, Backed by Science
This site is a culmination of my experience as a vet for over 30 years.  Welcome!
Since I first graduated in 1982,  the care and professional understanding of cats has developed significantly, although I sometimes feel there is a long way to go.
With a few changes to the environment and better expectations, many more cats experience a far better daily quality of health and wellbeing and reach a geriatric old age in fine feline fettle.
And that means happier owners too, with less medical expenses.
So this site is my way of enabling you to experience a better life for you, your vet and your pet cat.
And if you want to read more about specific subjects I have a growing range of books you can read as well.
Why Cats?
Cats seemed to be neglected back in the 1980's.  There was not much you could do for a sick cat, though they were very good surgical patients and could heal almost any trauma.  So I started to "dig deeper" into feline medicine, and realised I also had a real affinity both with cats and their owners
I had observed that if the cat was not broken by a trauma, most vets felt there was not much to offer.  Lack of cat treatment knowledge would lead them to remarks such as  'Cats always do that that' or "It's a common problem and there is no real solution".
Not satisfied with that panacea I started deliberately observing and contemplating behaviours of various animals, but particularly cats, as this is where there seemed to be the most mystery and lack of understanding.  I was determined to solve these cat mysteries and learn what was behind the various behaviours and diseases that cats presented and what could be done about them.
I watched and I studied and talked to cat-oriented vets, breeders, and owners.  And in my practice I tried (and sometimes failed) and then tried something else.  All the while, hand in hand with this private mission, the veterinary world was developing new cat medicine and information to integrate with my research.
With the systematic homing out (adoption) of 5,000 cats and kittens, with up to a 20 year follow up, now I believe I became the only vet in the world who had a 'cradle to grave' service for so many of those, plus the other cats and kittens who came to my clinic.
The insights were either about cat behaviour and illness, or about cat owner behaviour and expectations.
And learned more about fleas than I ever wanted to know!
It took a further 10 years to bring all the necessary ingredients together to form the my own Cat Clinic in Sydney but eventually it was opened in 1994.  From over 5,000 cats that have since into our care, I learned even more.
And now, pet cats can be healthier than ever.  Parasites, kitten illnesses and viral problems, food and hygiene issues can all be controlled, if not always conquered.
Read more about Dr. Kim in VetPractice Mag
Professional Milestones
Nearly every person can have a satisfying feline relationship.  Just remember that the cat comes first!
Dr. Kim.
1982
Graduated BVSc. Married.
Worked in 40 vet practices in the UK, Zimbabwe, Australia and U.S.
1990
MANZCVS in cat medicine
(Member Australian and New Zealand College of Veterinary Scientists)
1994
August 1 (the horses' birthday)
Opened my first practice, The East Chatswood Cat Clinic
1994 – 1996
President, Feline Medicine Chapter
Examiner in Feline Medicine .
2004
Advanced MANZCVS
Animal behaviour
Advance Behaviour Certificate NAVPGI
2006 – present
Intermittent seminar series for the Australian and New Zealand College of Veterinary Scientists – Veterinary Behaviour Chapter and Animal Welfare Chapter
2010
Cats and Wildlife Seminar in the City of Willoughby for Willoughby Council